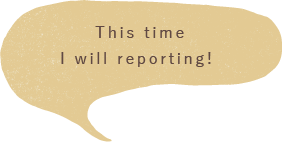 This time I will reporting!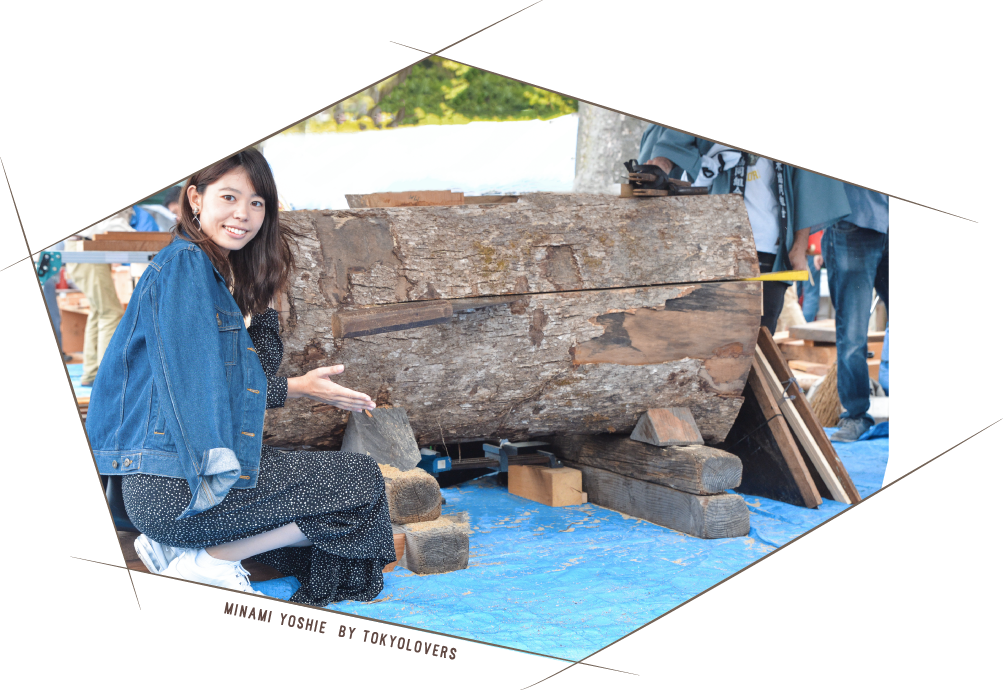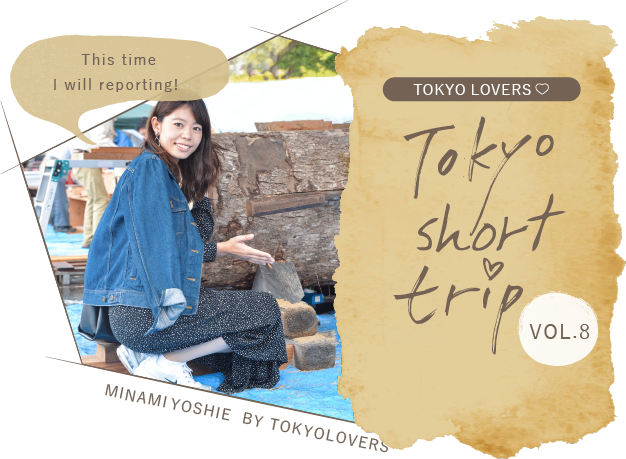 Tokyo Short Trip vol.08

As its name suggests (literally meaning a "lumberyard"), Kiba is the center of Tokyo's lumber business and has been for some time as told by the numerous long-standing traders who have been operating since the Edo Period. And, they are a tough lot. Ravaged time and time again by earthquakes and wars, the lumber wholesalers of Kiba have always made a comeback. Today, the forum -- so to speak -- has been moved to Shinkiba where one of the largest lumber complexes in the world has been built. I visited both of these areas to explore the world of wood and some traditional bites.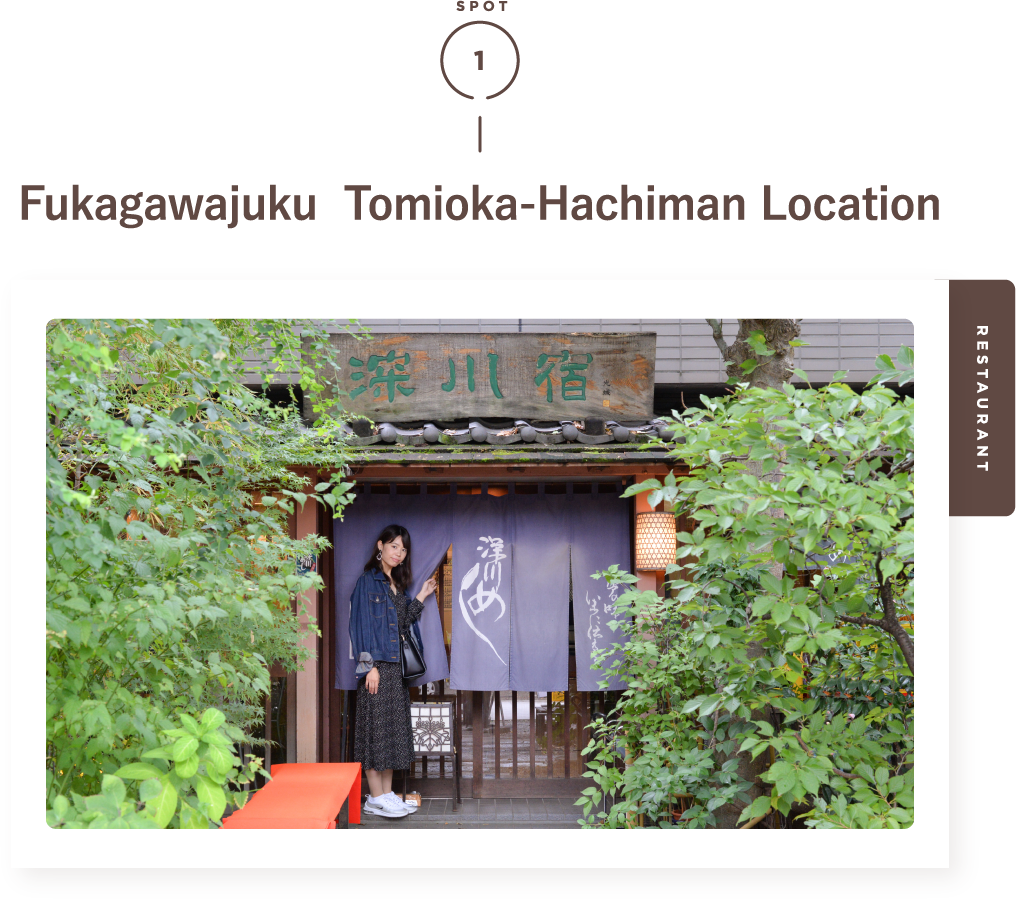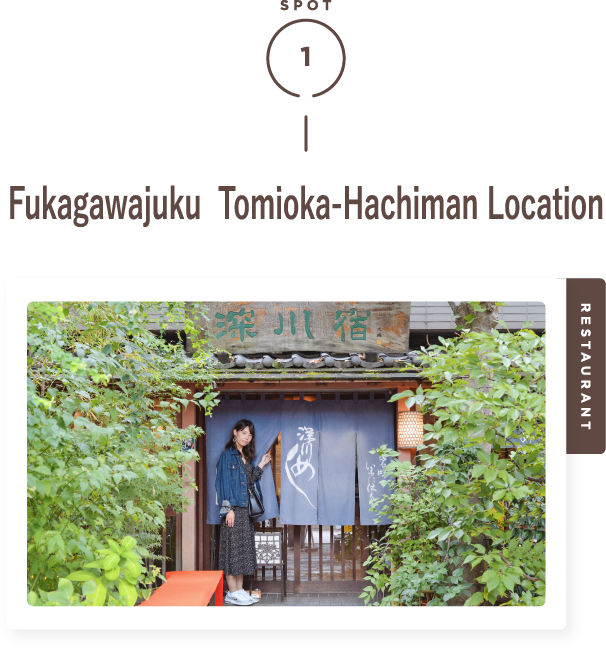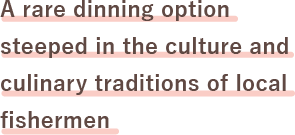 A rare dinning option steeped in the culture and culinary traditions of local fishermen
Back in the Edo Period, Fukagawa was a small enclave of fishermen. Given their access to seafood, they used to pour miso soup with clams over rice as a staple meal, which eventually became known as fukagawameshi. Later, a distinctly different style of dish that boiled the clams with the rice became popular and spread. Fukagawajuku has learned the traditional way to prepare these dishes from local fisherman and has today revived the original tastes! Their passion and determination to get it right starts with fresh clams from Tokyo Bay. You can get your clams poured over rice, called bukkake, or boiled in rice, called takikomi. Ether way, you are getting a taste of tradition.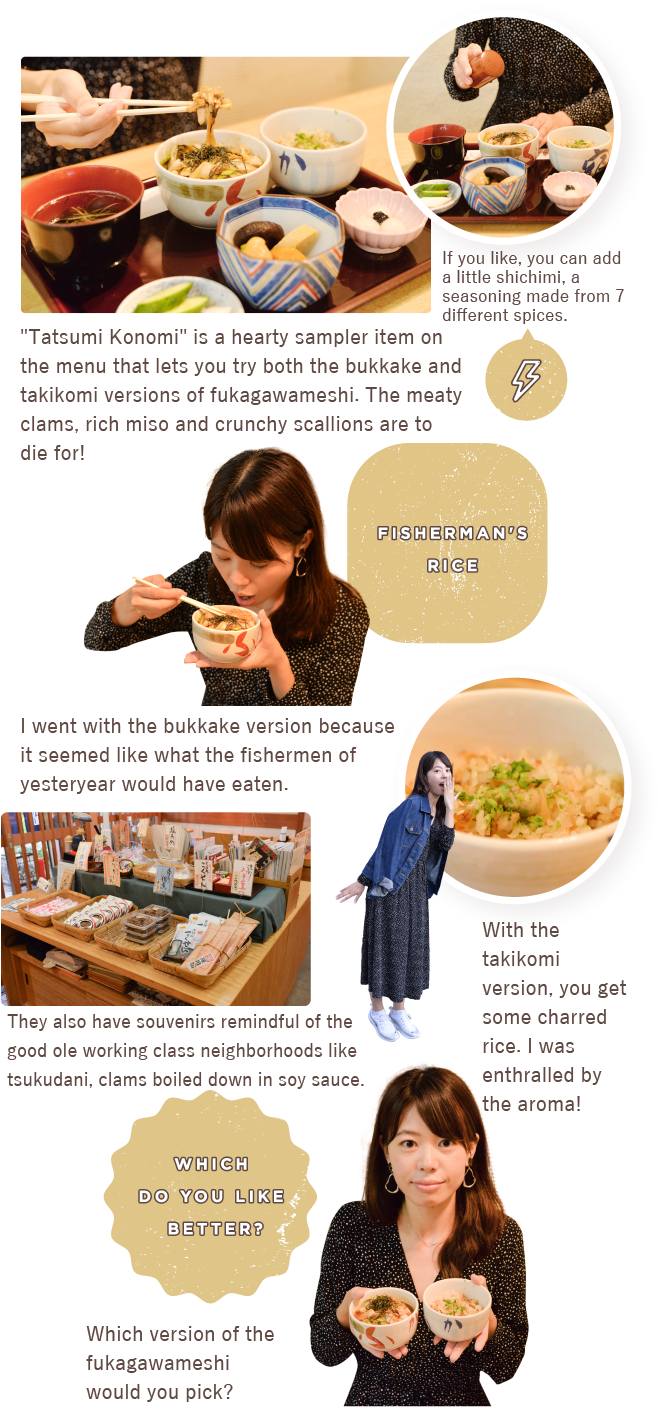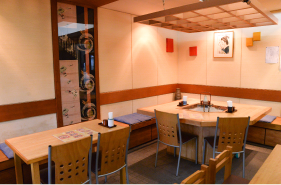 Fukagawajuku Tomioka-Hachiman Location
Tel
03-5646-8678
Address
1-23-11 Tomioka, Koto-ku, Tokyo
Tomioka Hachimangu Shrine grounds
Business hours
Weekdays 11: 00-15: 00 (L.O.14: 30)
17: 00-21: 00 (L.O.20: 30)
Saturday, Sunday and public holidays 11: 00-17: 00 (L.O.16: 30)
Holiday
Mondays (or the next Tuesday on national holidays and 15.28 days)
Access
About 3 minutes on foot from Monzen-Nakacho Station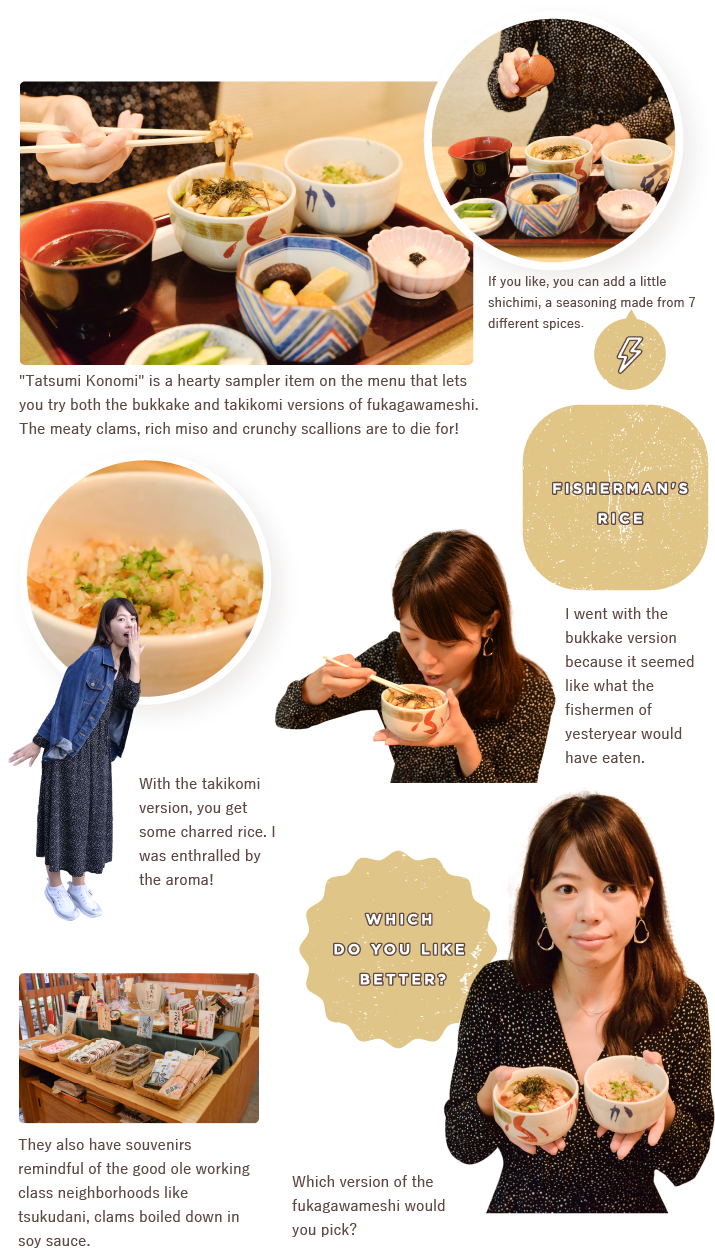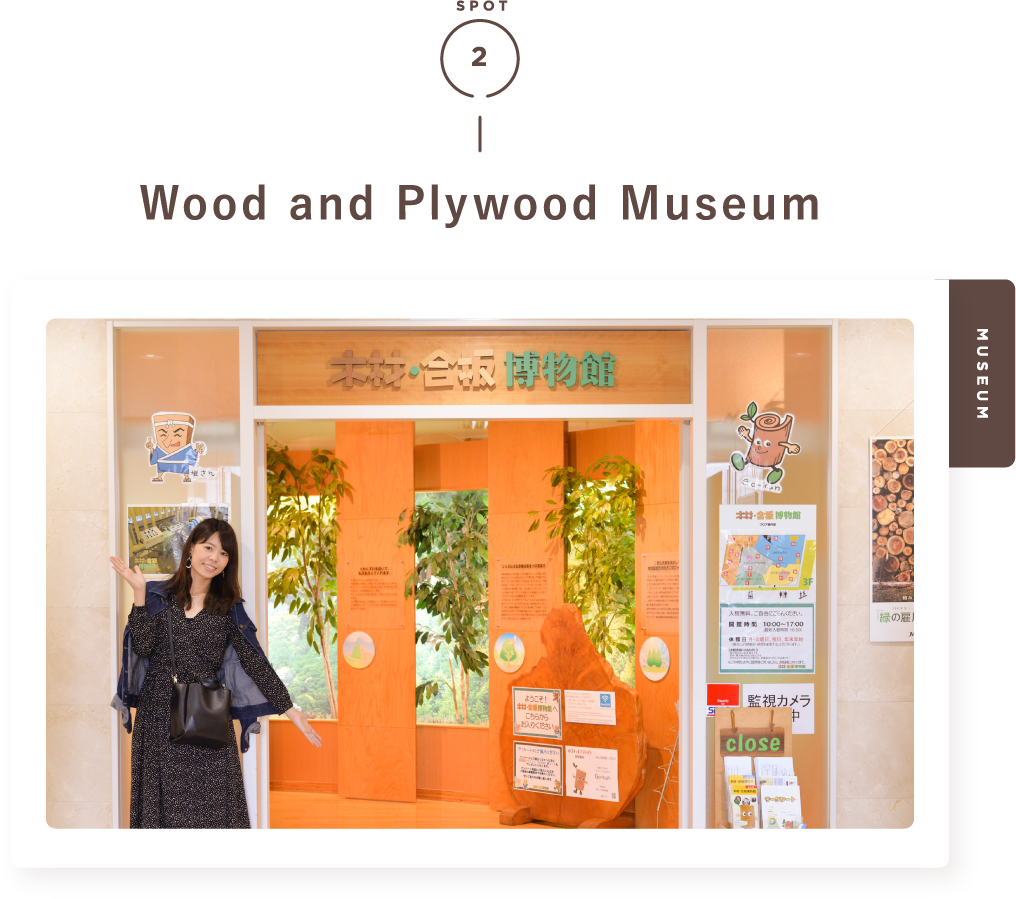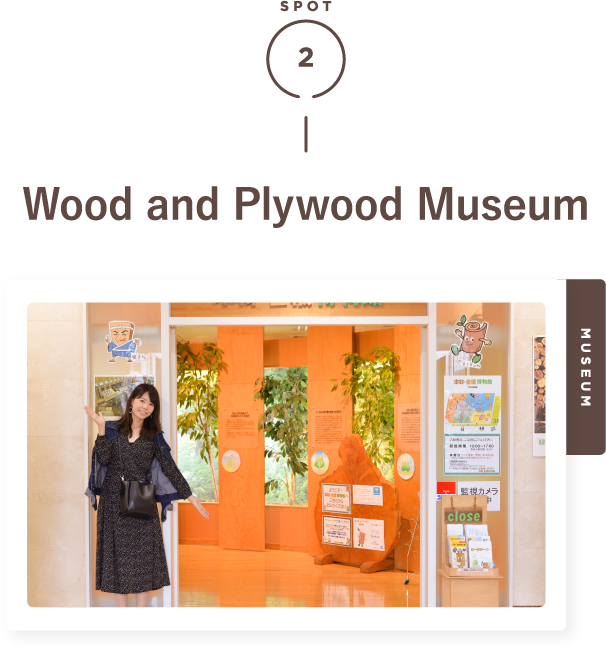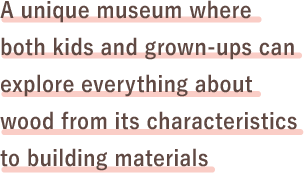 A unique museum where both kids and grown-ups can explore everything about wood from its characteristics to building materials
Located in your average office building, this museum is all about wood, but it is really interesting and free, too! Here, even adults will get lost in the interactive exhibits, touching and tapping different types of wood to see how they all smell, weigh, sound, shine and look differently. There is also an area that talks about the history of Kiba and has a diorama of the lumber merchants during the Edo Period. The museum is designed to learn about the lumber business and its legacy in ways that children and adults alike will find fun.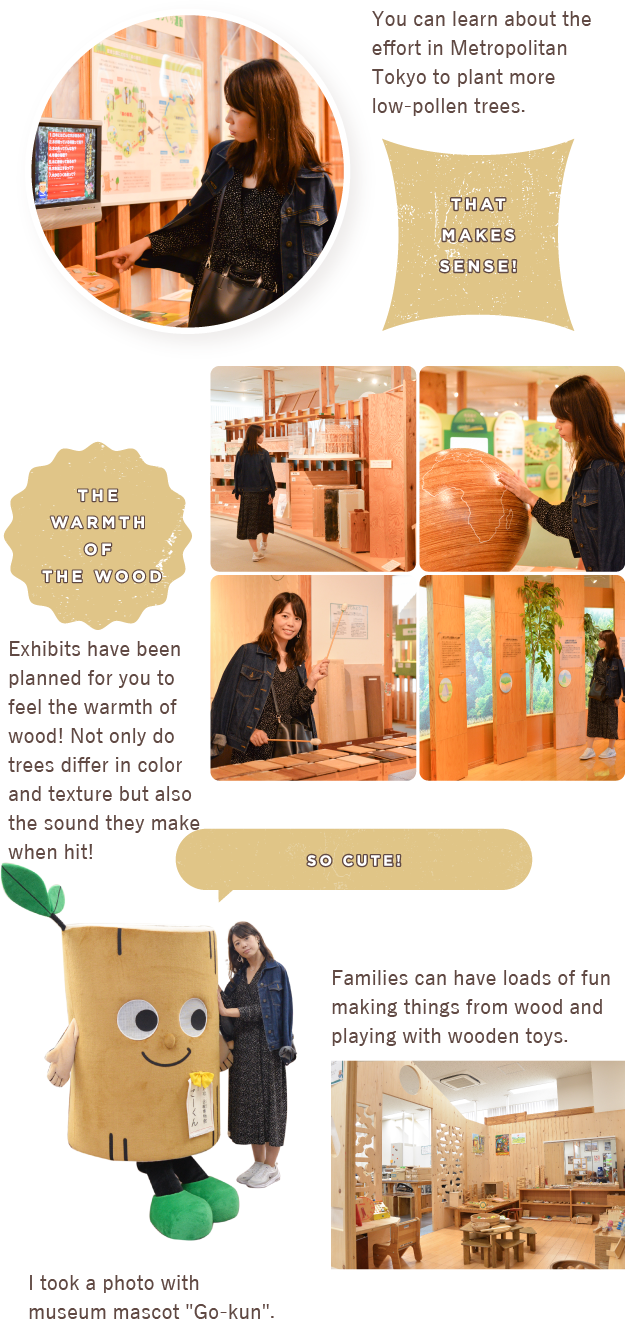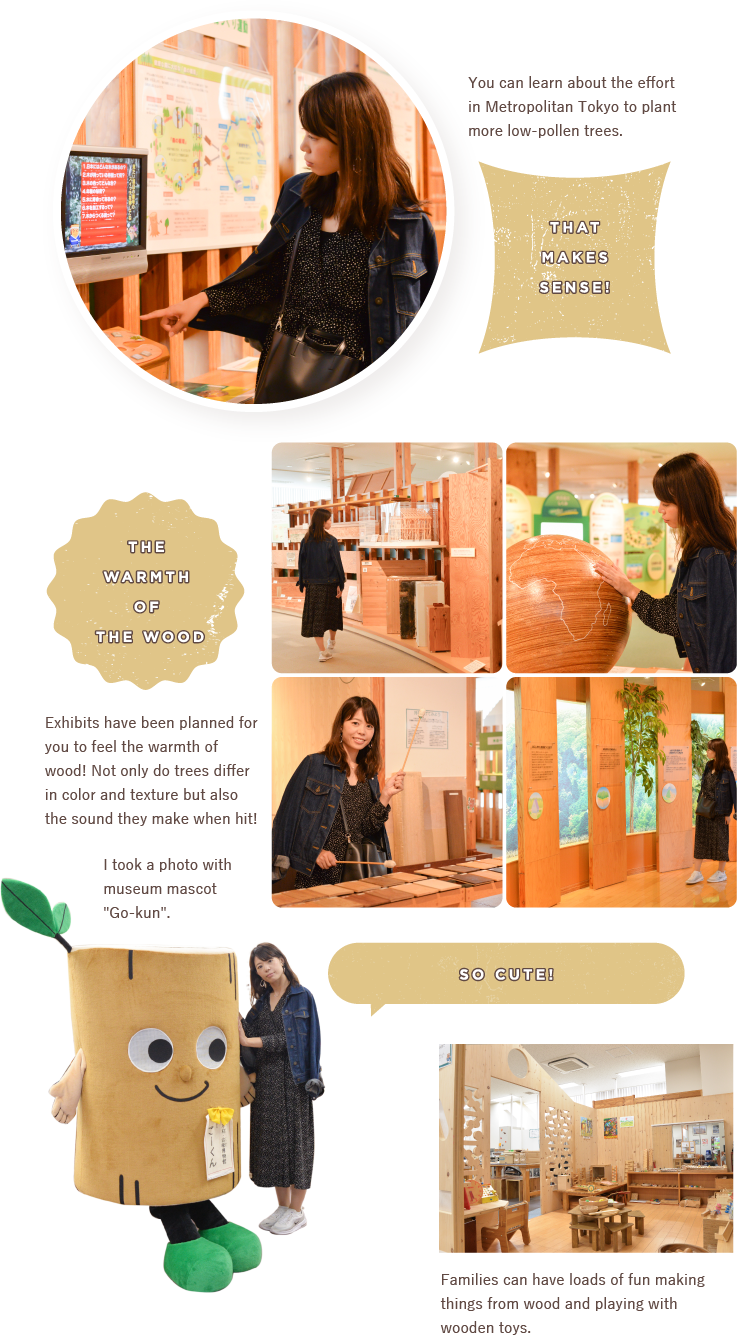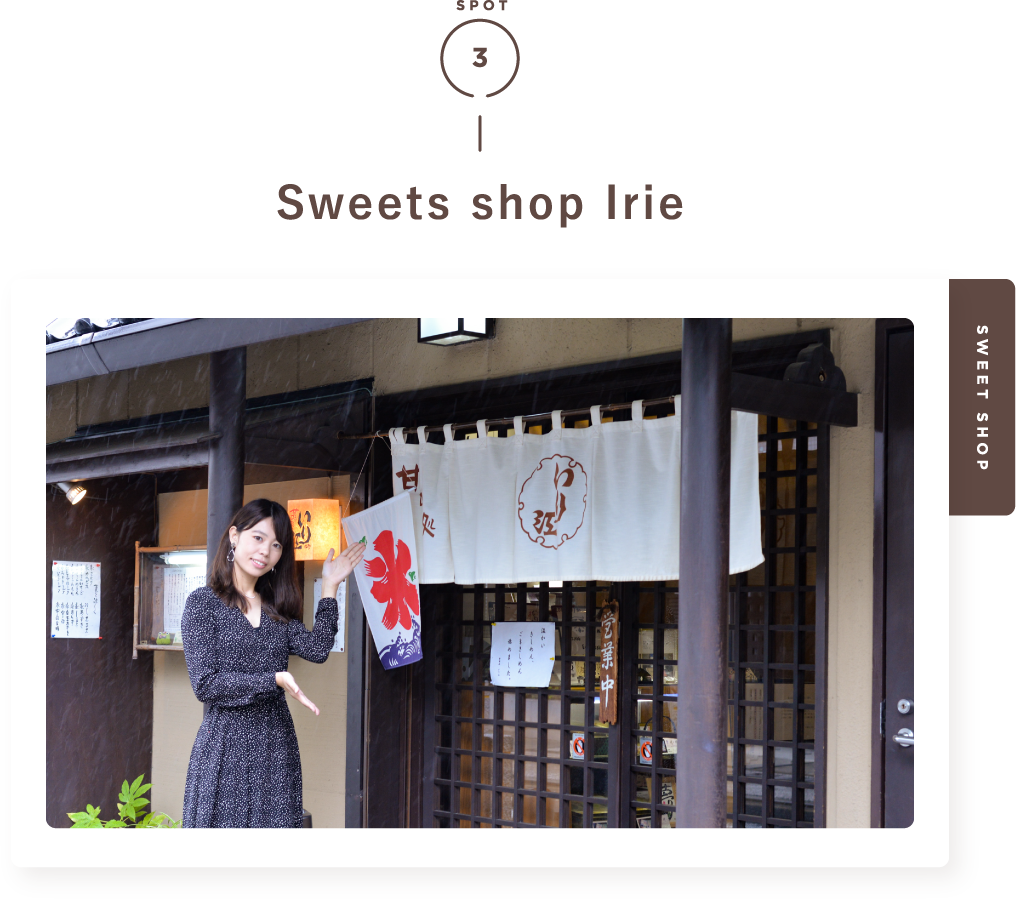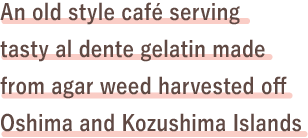 An old style café serving tasty al dente gelatin made from agar weed harvested off Oshima and Kozushima Islands
Irie blends fragrant agar weed from Oshima Island with its springy cousin from Kozushima Island in just the right portions! It's a time-consuming process they go through everyday, but the gelatin that results has a delightful briny flavor and enjoyable al dente texture! It is harmoniously paired with red peas that have slowly simmered for 8 hours, their own homemade molasses and bean jam that has been strained until silky smooth. It tastes so good you can't put the spoon down! I was treated to the culinary delights of an old style café with a penchant for choice ingredients and time-honored recipes in an atmosphere you might equate to an inlet where a ship could furlough its sails. Pun intended. (Irie actually means "inlet" in Japanese.)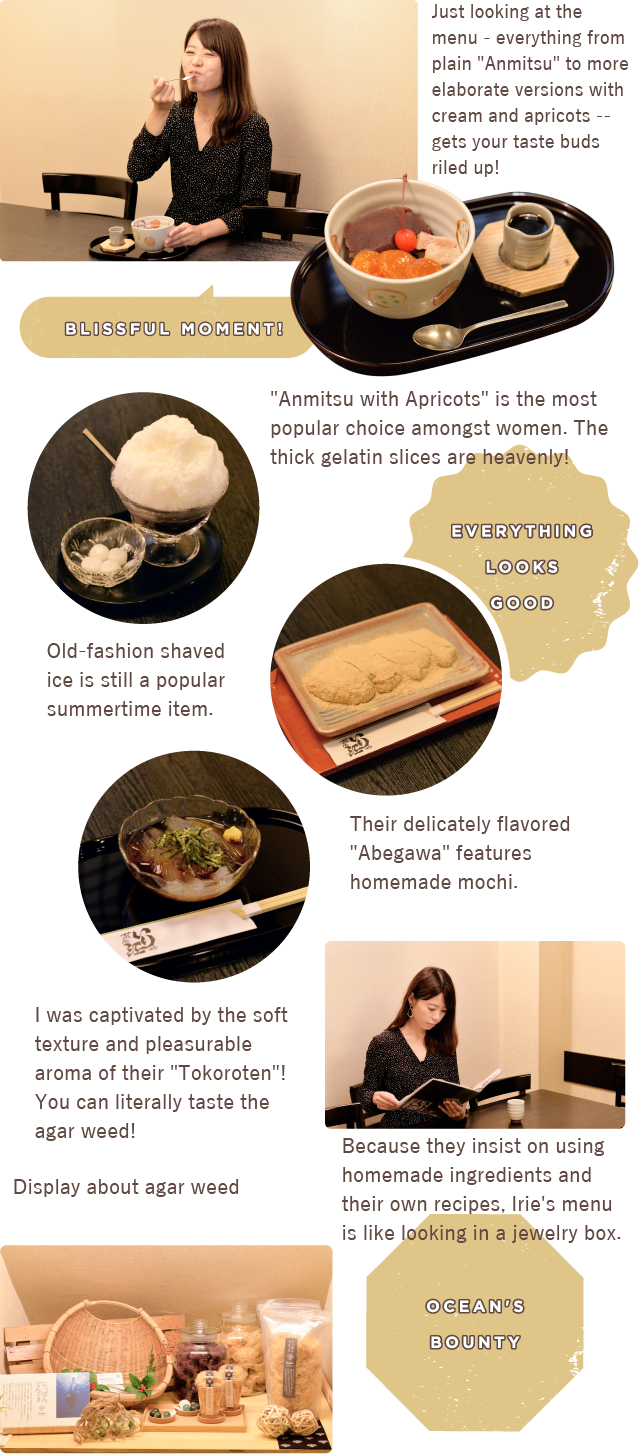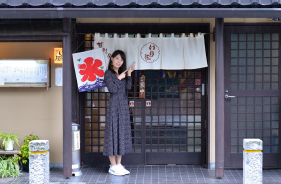 Sweets shop Irie
Tel
03-3643-1760
Address
2-6-6 Monzennakacho, Koto-ku, Tokyo
Business hours
Weekdays 11: 00-19: 30 (L.O.19: 00)
Saturdays, Sundays and holidays 11: 00-18: 30 (L.O.18: 00)
Holiday
Wednesday (open on Wednesdays on national holidays and on 1/15/28)
Access
About 3 minutes on foot from Monzen-Nakacho Station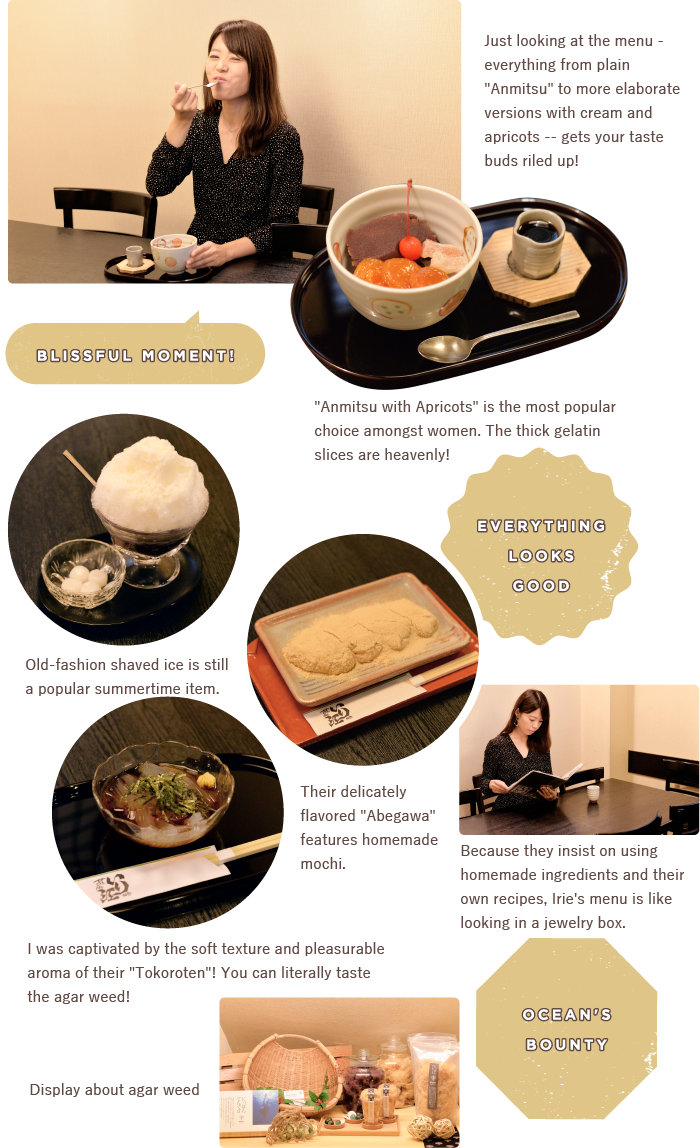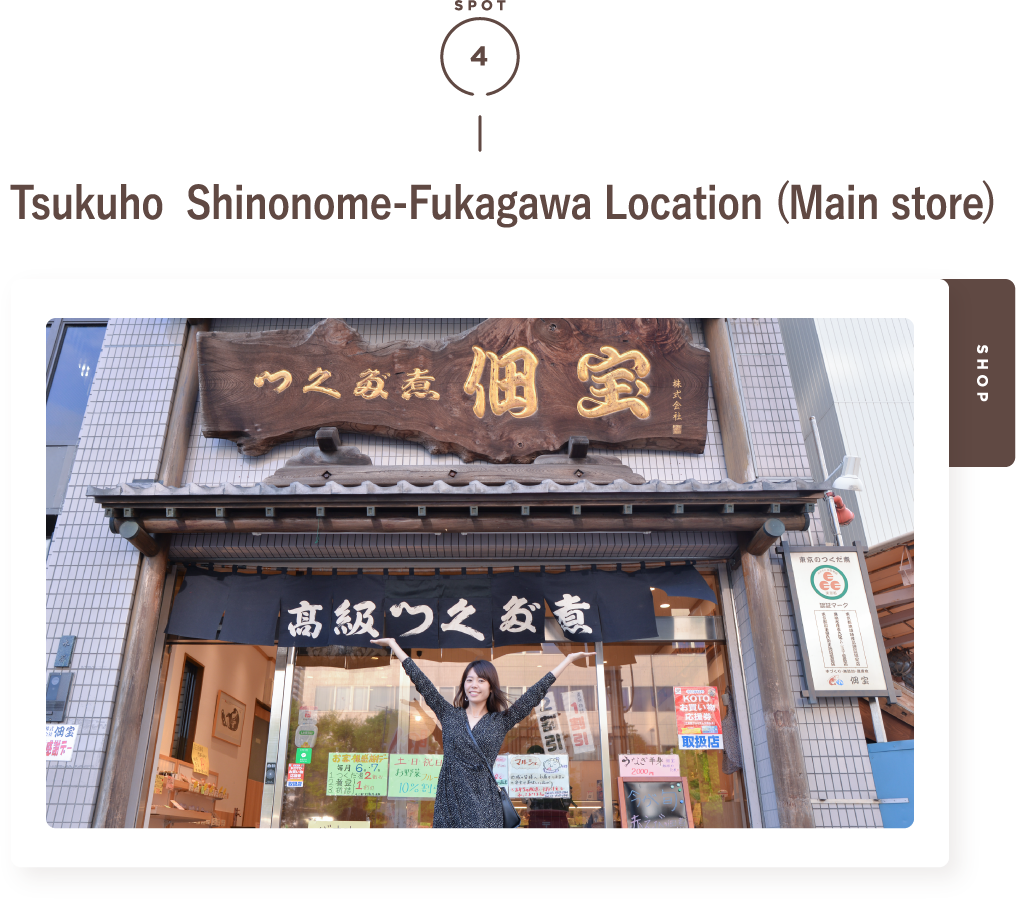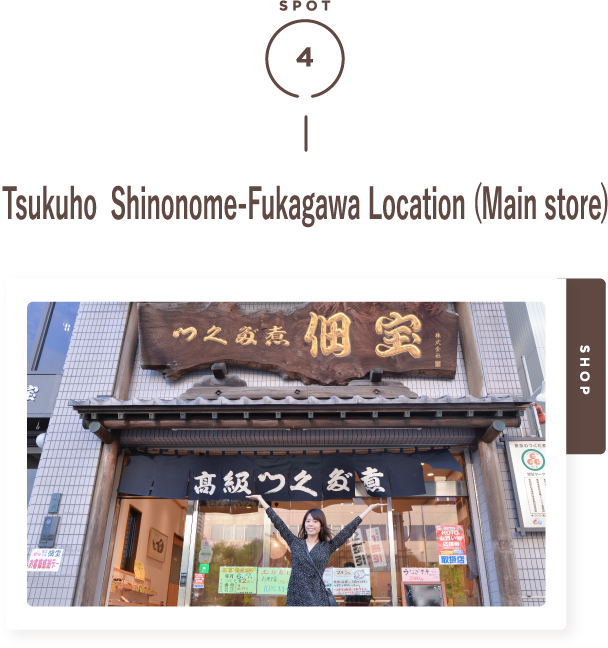 Made the old fashion way so you can taste what's in it
Generally described as "foods boiled down in soy sauce", traditional tsukudani is made by seasoning each ingredient so that it can be tasted. Since their founding, Tsukuho has stuck to their original recipes -- no additives whatsoever and handmade techniques that handle ingredients gently. Moreover, their tsukudani was the first of its kind to be named a Specialty Food of Metro Tokyo (foods certified by the metropolitan government based on taste, quality, the passion and design that go into products, etc.) and is reputably a signature souvenir of Tokyo.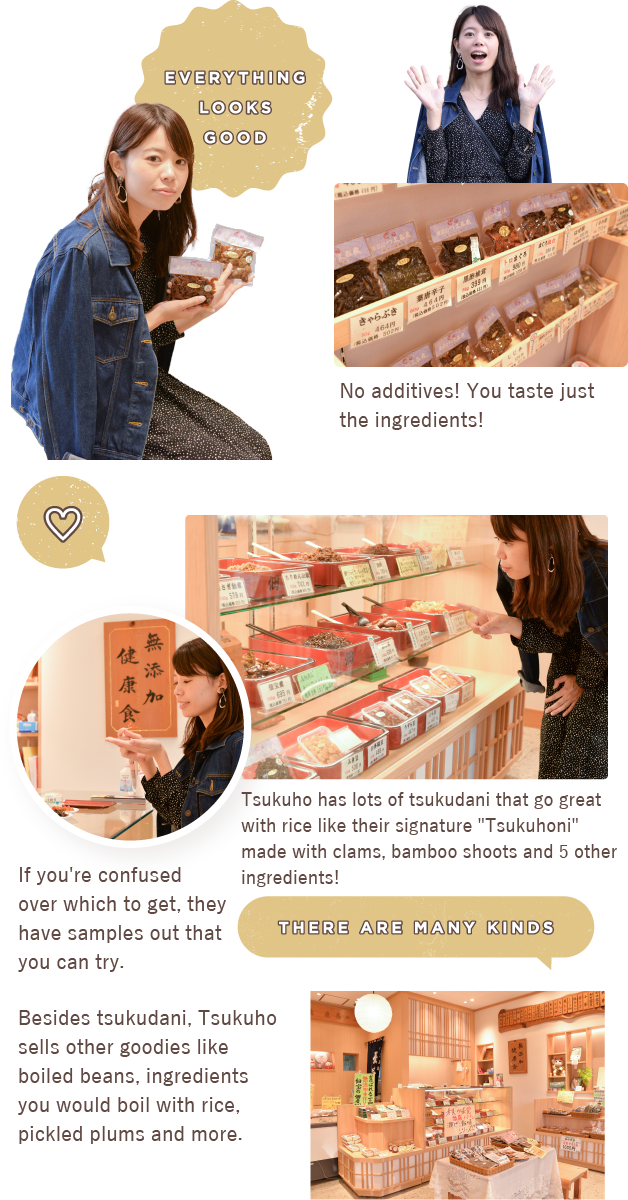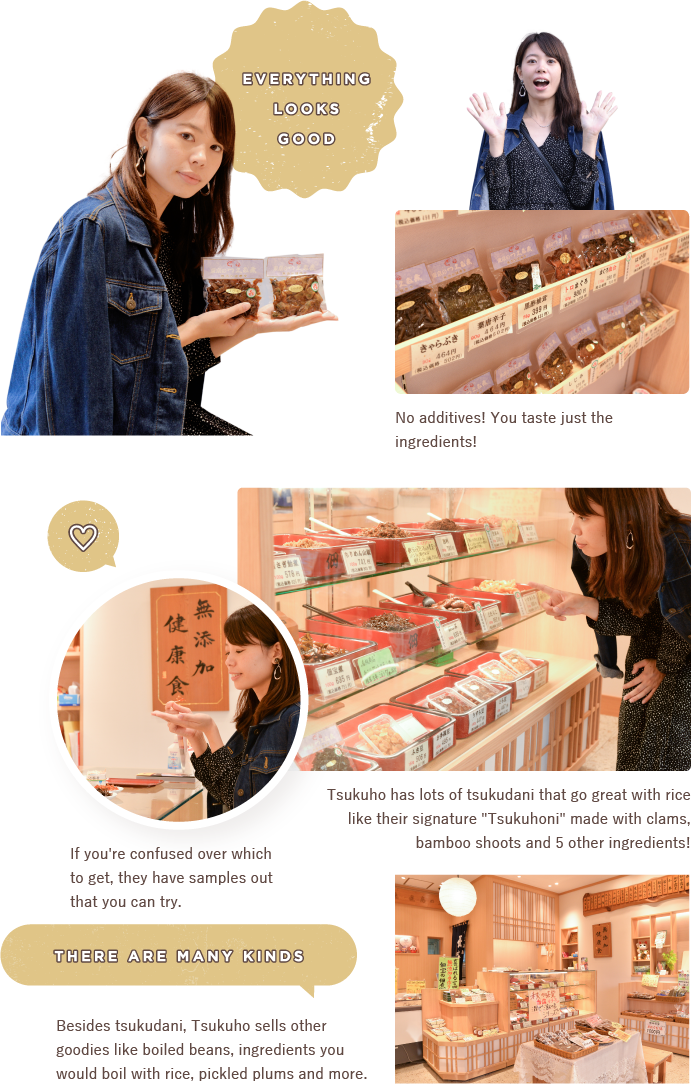 Here's another Tokyo short trip
Walking around the Kiba - Shinkiba area

It was an outing of encounters with the culture, traditions and way of life in Tokyo that left me feeling happy and content inside in the same way that trees make you feel warm.

'"Wood" is an integral part of Japanese culture, which makes the lumber industry critical to our way of life, because we have to protect and maintain our forests. Similarly, all of the restaurants, cafés and food providers who are honoring traditional tastes and sharing them with other are the pride and joy of Tokyo.